Safeguarding
Our most recent Ofsted report says, "The Leadership team rightly makes the safety of pupils its highest priority. You and your team take great pride in knowing each pupil and their family well".
If you have concerns about the safety of any child in this school please contact one of these staff - Mr Mark Currell (Deputy Designated Safeguarding Lead), Miss Underwood (Designated Safeguarding Lead) or Mrs Sapwell (Deputy Designated Safeguarding Lead).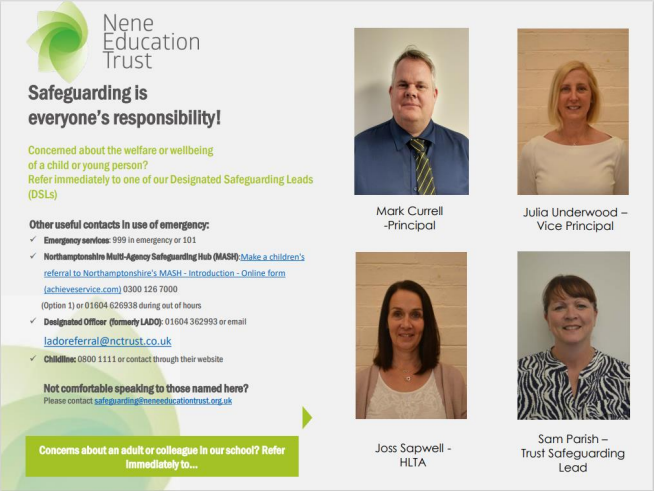 All staff are required to pass on any concerns about a child, and the school operates on a belief that "safeguarding is everyone's responsibility".
This website has information about how you can help keep children safe and how to report concerns.
The above websites both have lots of information to help parents keep their children safe, for example information on e-safety and bullying. They have links to other agencies that can help you if you need further support or advice.
The school teaches children to keep safe in many ways including assemblies, the PSHE curriculum and through our Cornerstones curriculum. We also use an approach called Protective Behaviours which is designed to help children understand how to keep themselves safe and to know what to do if they don't feel safe.
DfE's Keeping Children Safe in Education